Parts Retail Apprenticeship 2022
At Ben Burgess its been our mission since 1931 to be the leader in our industry by offering excellent customer experiences and an inspiring place to work.
As a company John Deere is renowned not just for its machinery, but also for its outstanding parts and service support. Your apprenticeship teaches you how to manage John Deere's sophisticated parts systems, run a profitable retail environment, merchandise goods effectively, and understand the value of John Deere products and the importance of selling on quality rather than on price.
The main purpose of a retailer is to assist customers when they purchase products and services, which requires a good understanding of the stock being sold, the variety of ways customers can shop, and the ability to process payments, for example, using a till.
Retailers must be passionate about delivering a quality service that always aims to exceed customers' expectations. Therefore, retailers enjoy direct contact with a wide range of people and are motivated by completing a sale and knowing a customer is happy with their purchase.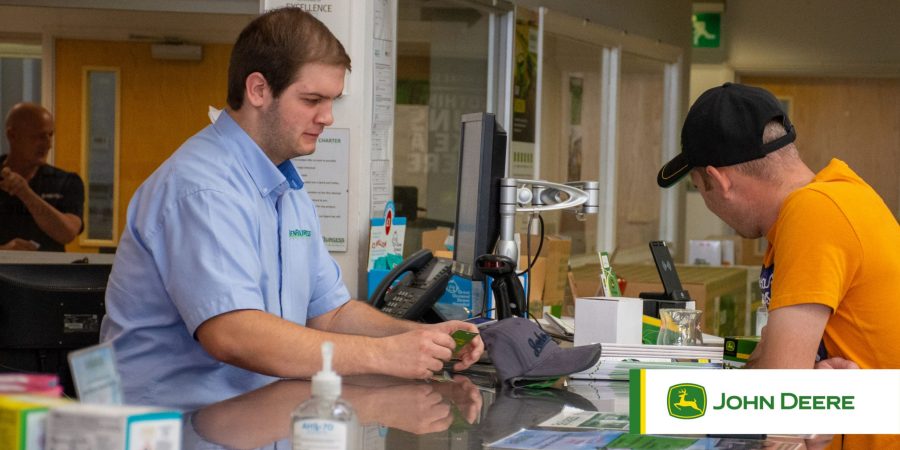 Beeston, Coates and Oakham Only
What does a Parts Retailer Apprentice do:
Like all apprenticeships, your programme will combine training with paid employment, leading to nationally recognised and valued qualifications.
What will you learn:
Our Parts Retailer program not only covers all the knowledge, skills and behaviours required to complete the Apprenticeship Standard, but also includes a fascinating equipment knowledge section. This equips you with the knowledge and understanding to advise and inform customers correctly and accurately when dealing with their enquiries.
Our Parts Retailer apprenticeship follows the level 2 Apprenticeship Standard; Retailer (ST0327)
How will you learn:
You will work at your chosen Dealership with us but also spend time at the John Deere Apprentice Training Centre and at John Deere's Head Office, both near Nottingham.
You are supported by a designated Learning Advisor and by your manager and mentor, gaining valuable workplace skills by undertaking practical tasks and experiencing real-life challenges.
You will be provided with an individually tailored learning plan, with progress monitored by your Learning Advisor who will make regular visits to you for on the job review and guidance.
What do you need to be successful?
Apprentices are required to have achieved English & Maths at GCSE A-C or 4 & above.
A willingness to learn and develop new skills.
You will be self-motivated; you know what you want and will work hard to get there with resilience when things get tough.
You will demonstrate the professional standards we expect of our future employees.
What will the application process entail:
We will be reviewing all application by the closing date of 31st January 2022.
Successful candidates will be invited for interviews and/or assessment days.
If successful, you will be made a provisional offer of an apprenticeship pending your GCSE results and successful completion of the PROVQ initial assessment.
Further Questions:
Please contact your local Ben Burgess dealership for further questions: https://www.benburgess.co.uk