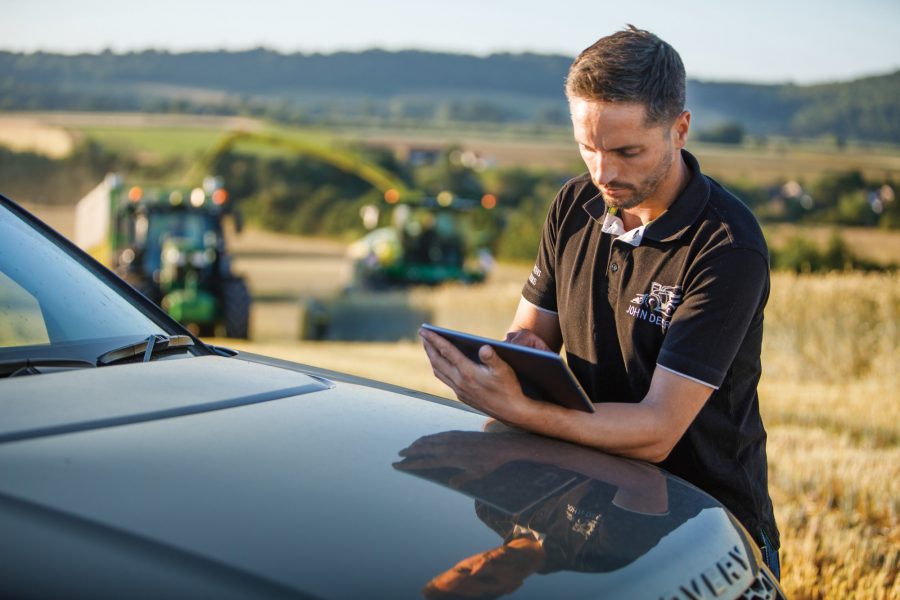 MyJohnDeere – Operations Center
John Deere's Expert Alerts system uses algorithms to predict certain upcoming issues before they arise. The generation of automated diagnostic and repair information allows us to take a proactive approach to machine maintenance which means less downtime for your machine and reduced repair costs.
One login, all applications
Users log in to their MyJohnDeere.com account to access all pertinent information in a centralised location. This includes access to current applications such as JDLink™, JDParts™, and StellarSupport™. Additionally, MyJohnDeere.com hosts new applications such as the operations center, the first place to go in order to monitor the current work status, and my equipment which gives owners a quick overview of their machines and associated machine capabilities.
John Deere Operations Center™ is an online farm management system that enables access to farm information anytime, anywhere.
John Operations Center enables smarter machines, enhanced connectivity, and achieving more informed and accurate decision making. Tools in the Operations Center provide you and your partners with the ability to analyze, edit, and make collaborative decisions from the same set of information to get higher yields and reduce input costs. These tools help you farm more efficiently by creating plans and directing in-field work, allowing you to farm more acres in less time.
Combined with its complimentary suite of mobile apps and the power of live connections to the machine, Operations Center enables you to manage your operation more efficiently, do a better job on every pass, reduce costs, and improve profitability.
JDLink connectivity links you to:
Your work and results – Make decisions based on your operation's accumulating intelligence. With ready access to past performance, current progress, and future plans, you can take confident steps toward greater efficiency, productivity, and profits.​
Your team – Give your team the information and direction they need to do jobs accurately and on time. When you can reach your crew and they can reach you, you're ready to deal with the unexpected, adjust plans and solve problems together.
Your advisors – Easily exchange information with Precision Ag specialists who inform your decisions. With a clear view of what's happened and what's happening in your operation, your trusted partners can offer even more accurate, reliable advice.​
Your equipment – Stay on top of your equipment's health and productivity. With access to monitor and control machines from anywhere, you can prevent or minimize work interruptions, solve problems, and keep business running strong. By passing data from one machine to another, you can take time and guesswork out of mission-critical jobs, ensuring consistently excellent results throughout your production cycle.​
Your Precision Ag specialist – Tap into your Precision Ag specialists expertise and support to get maximum value from your John Deere investments. With the specialist's vigilant attention, you get proactive service, customized support, and insights and training from the best in the business.​
John Deere – Know that you are running your operation with quality, durability, and innovation using John Deere tools and technologies that are fit for your purpose today and getting smarter all the time, because John Deere learns from and innovates for a global network of connected customers.
As a farm manager, you can't be everywhere at once. But with JDLink hardware and JDLink connectivity, you can easily pay attention to things that worry or cost you most, no matter where you are. JDLink connections allow machine and field data to flow automatically to the John Deere Operations Center™ application, making it visible and useful to you and your crew. With JDLink, you are always connected to the work in progress and can make timely adjustments to keep things moving, whether you are tilling, planting, applying, or harvesting.
NEW – 1 – Click Work Planner:
Cut set-up times in the field by up to 90%! AutoSetup is a simple to use tool that helps you plan all your main operations: tillage, seeding, spraying, fertilising and harvesting
NEW – AutoPath automatic guidance lines:
Cut set-up times in the field by up to 90%! AutoSetup is a simple to use tool that helps you plan all your main operations: tillage, seeding, spraying, fertilising and harvesting
Digital Fieldbook:
Now you can add all your completed work jobs directly in our app, where it's securely stored in one place and easily accessible from any device at anytime.