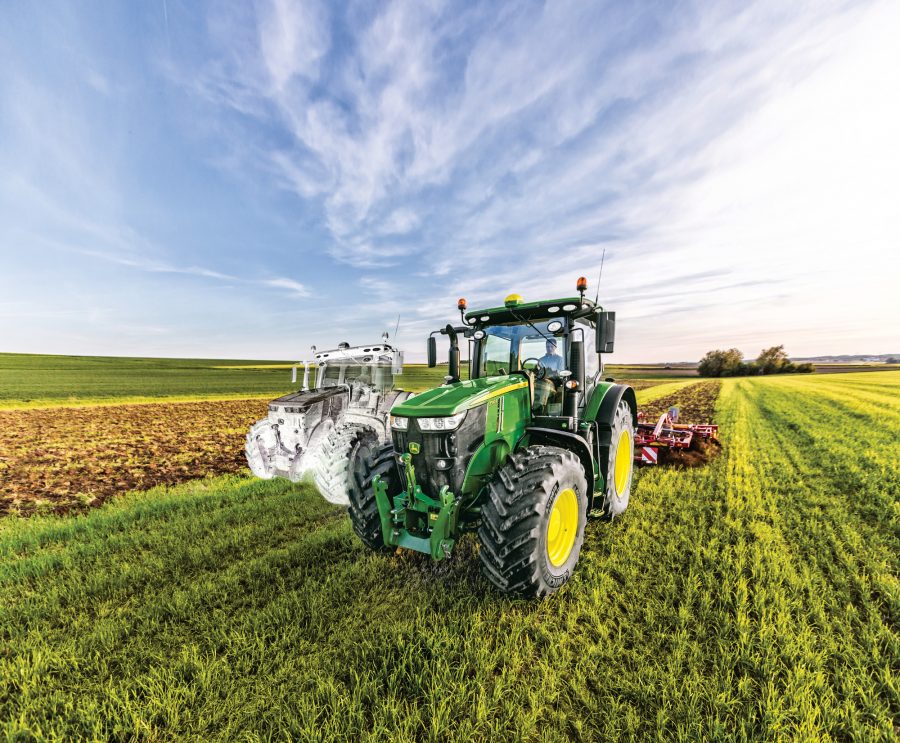 Service Advisor Remote – SAR
Service Advisor Remote is the tool that allows us to increase your machine uptime by identifying potential machine issues before they happen, reducing the need for diagnostic call outs and therefore reducing your costs. In addition, with your permission, your Ben Burgess Precision Ag specialist can remotely access your machines diagnostics system through JDLink to ensure its running at peak performance.
Remote Display Access – RDA
Remote Display Access allows our Precision Ag specialists give immediate support by connecting to your in-cab display. Once connected, we can assist with set-ups, troubleshoot and optimise the performance of your machine.
Expert Alerts
John Deere's Expert Alerts system uses algorithms to predict certain upcoming issues before they arise. The generation of automated diagnostic and repair information allows us to take a proactive approach to machine maintenance which means less downtime for your machine and reduced repair costs.
Support Packages
You rely on your tractor, harvesting machines and self-propelled sprayers every second of the season. Increase your uptime with a Ben Burgess support package. We're committed to keeping you working without compromise. We continuously invest in technician training and the latest technology to support you in the most efficient manner. Our Ben Burgess support packages have been designed with two goals in mind: maximise your uptime and minimise your cost of operation. See for yourself — unlock the full potential of your John Deere tractor, harvesting machine and self-propelled sprayers.
1st Year Precision Ag Package
| | |
| --- | --- |
| MyJohnDeere.com account setup and user training | Account set up in MyJohnDeere.com, machine transfer into customer account, partnering set up. Website and Operations Centre training |
| JDLink setup & web site user training | Search/create customer organisation, define/complete partner (define permissions), machine registration/transfer terminal, overview JDLink features and benefits, Select/Ultimate data/WDT/RDA/SAR/LH, Train/Set up customer on using JDLink features. |
| AutoTrac set up | Set up of AutoTrac, ready for use. |
| GreenStar software updates | New software installed twice yearly. |
| Remote machine condition checks | Conduct regular machine checks through JDLink/Service Advisor Remote with information passed on proactively about required actions/repairs. |
| Maintenance alert service | Set up JDLink website to dealer notification for maintenance notifications and proactively contact customer to schedule machine maintenance. |
| Seasonal phone and text support | Seasonal phone and text support from sales specialists and AMS consultants for machine operators during normal working hours. |
| Seasonal customer experience review | Three experience reports provided over the 12 month package period. |
| Consolidated annual review | End of year review with report discussing efficiency and performance. |
| Remote set up support with RDA | Four operator support sessions through remote display access on questions relating to utilisation of AMS equipment and tractor set up. |
| In-field tractor handover with implement | Tractor and implement delivered with handover explaining the settings and operations of machine and implement. |
| Optimisation course | Two places on a Ben Burgess Tractor Optimisation training day. |
FOC with the purchase of a connected machine.
Connected Uptime Package (with phone, text and email support)
This package is designed to assist you for year two of owning your connected tractor and beyond.
| | |
| --- | --- |
| 3 x Remote Display sessions | |
| 2 x GreenStar software updates (at Ben Burgess branch) | |
| End of season machine check via service advisor remote | |
| Back up components | |
£250 for 12 months support
Combine/SPFH Yield Mapping Package
Get the most from your machines yield maps. Combines and SPFH's collect valuable data from every pass on the field, allow us to turn that data into insight and assist you in making agronomic decisions.
| | |
| --- | --- |
| Phone, text and email support (within Ben Burgess harvest hours) | |
| 3 x Remote Display sessions | |
| GreenStar software update before harvest (at Ben Burgess branch) | |
| Set up of farm and field data before harvest | |
| Review of yield data after harvest | |
| One place on a Ben Burgess optimisation training day* | (*for combine customers only) |
£495 per harvest
Additional Services – Pay as you go
| | |
| --- | --- |
| Phone support (per minute) | £1.00 |
| Remote display session | £20.00 |
| Hourly rate for on-site visits (per hour + mileage from branch) | £74.00 |
| Hourly rate in branch work | £74.00 |
| Software update in branch (per receiver) | £55.00 |
| Software update on site (per hour + mileage from branch) | £70.00 |
| Software supplied on USB with instructions | £15.00 |
| In-field system set-up/optimisation with 1 implement | £250.00 |
| MyJohnDeere/Gatekeeper support (per HA) | £1.50 |
| Set up MyJohnDeere account on customers computer and instruction on site | £200.00 |
| In-field start of season set-up of harvest equipment and AMS | £250.00 |
| In-field set up of spreader/drill for VRA | £250.00 |
| Produce VRA (or yield) maps to customers specification (per HA) | £2.00 |
| Optimisation Training course (per person) | £50.00 |
| Bespoke packages | POA |
| Bespoke optimisation | POA |