MAINTAIN
Preventative maintenance schedules helping you fix your cost of ownership.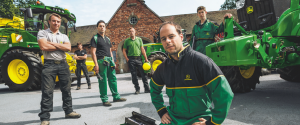 Why Ben Burgess?
Let us take care of your machine maintenance with our preventative maintenance plans. Your local branch will contact you when your machine is due for a service to book in a time that suits your work pattern. Our John Deere qualified technicians have up to date tools and knowledge to maintain your machine to the highest standard. We only use genuine parts which come with a six month fitted warranty.
We don't just service your machine, we follow the John Deere Expert Check routine providing a thorough inspection, this 61 point check system ensures no part of your machine is left uncovered. Our technicians will be in touch to discuss any potential repairs, further increasing machine uptime. In addition, signing up to our Aftermarket Solutions programme gives you 15% off parts and 10% off labour!
Because we are good at what we do!
Ben Burgess encompasses seven dealerships strategically located across East Anglia with 75 technicians and 28 apprentices. Together, they offer over 800 years of combined experience working on John Deere machines, keeping them running at optimum performance and supporting up-time. In addition, our parts experts are always available to advise and have access to over £4 million of parts stock across the group!