Ag Tech (Engineering) Apprenticeship 2022
At Ben Burgess its been our mission since 1931 to be the leader in our industry by offering excellent customer experiences and an inspiring place to work.
As the agricultural machinery business becomes more technologically advanced, utilising satellite navigation systems, Formula 1 transmission technology, computerised controls and advanced, fuel-efficient engines, the need for skilled people working in the industry becomes ever greater. Start your career in 2022 with Ben Burgess and John Deere.
Engineering is a practical subject. It's about making things work and fixing things that don't. You will learn to use the very latest John Deere equipment, working at the cutting edge of technology to gain the important skills required in a fast developing, high-tech industry.
Agricultural Technicians are trained in engineering, electronics, hydraulics, diagnostics, communication skills, computing, sales and marketing.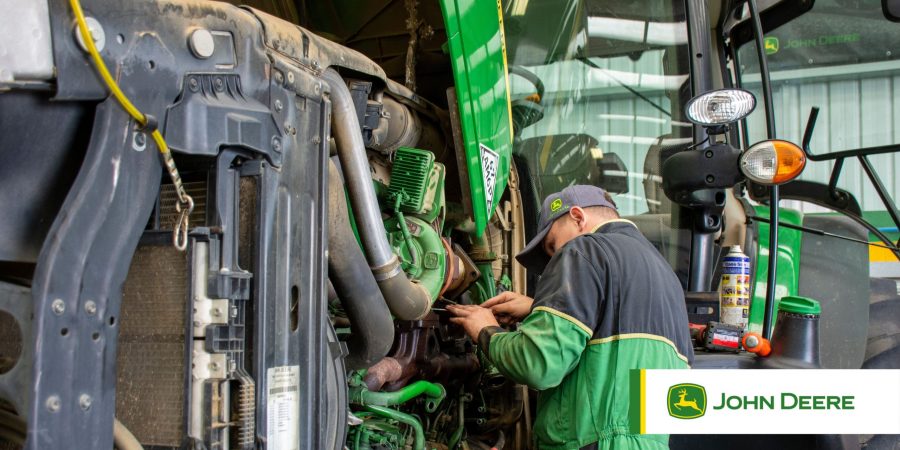 What does an Ag Tech Apprentice do:
Like all apprenticeships, your programme will combine training with paid employment, leading to nationally recognised and valued qualifications.
What will you learn:
With the emphasis firmly on farm machinery, you will develop skills and proficiency in a wide range of technical areas, from routine maintenance and servicing through to complex component overhauls utilising the very latest John Deere diagnostic equipment.
Our Land-Based Service Engineering Technician apprenticeship follows the level 3 Apprenticeship Standard; Land-Based Service Engineering Technician (ST0243).
How will you learn:
You will work at your chosen Dealership with us but also spend time at the John Deere Apprentice Training Centre and at John Deere's Head Office, both near Nottingham.
You are supported by a designated Learning Advisor and by your manager and mentor, gaining valuable workplace skills by undertaking practical tasks and experiencing real-life challenges.
You will be provided with an individually tailored learning plan, with progress monitored by your Learning Advisor who will make regular visits to you for on the job review and guidance.
What do you need to be successful?
Apprentices are required to have achieved English & Maths at GCSE A-C or 4 & above.
A passion for engineering – it will be apparent that you are excited to start a career in engineering.
A willingness to learn and develop new skills.
You will be self-motivated; you know what you want and will work hard to get there with resilience when things get tough.
You will demonstrate the professional standards we expect of our future employees.
What will the application process entail:
We will be reviewing all application by the closing date of 31st January 2022.
Successful candidates will be invited for interviews and/or assessment days.
If successful, you will be made a provisional offer of an apprenticeship pending your GCSE results and successful completion of the PROVQ initial assessment.
Further Questions:
Please contact your local Ben Burgess dealership for further questions: https://www.benburgess.co.uk