Expert Check: Tractor
Because they use field data from many seasons globally, our certified technicians know exactly where to look first, and which components require special attention. They'll fix every issue before it can turn into a problem during your next season.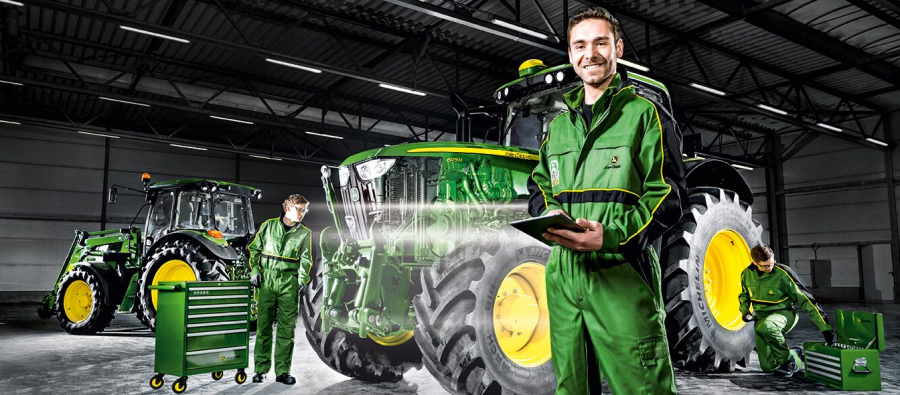 THE ADVANTAGE
Knowing what to look for makes the difference – our John Deere Experts have the experience, know-how and tools it takes.
EXPERT CHECK: NOW TAILOR-MADE
Depending on age, hours and main application of your machine, your Export Check can vary from a one hour check of key functions and safety aspects to a thorough 3-5 hour inspection that includes extensive wear measurements or hydraulic or engine performance tests.

INSPECT YOUR FLEET
You're eligible for attractive inspection bundle discounts when you bring in more than one tractor or implement or an Expert Check.
ALL YOU NEED, ONE PRICE
Once you know the results of the Expert Check, you decide what work you want us to perform to keep your machine in great shape. Best to use our All-in Packages which include parts and service at one all-inclusive rate.
Tractor engine & fuel package

Only genuine lubricants and filters ensure maximum engine performance and life. This package includes the replacement of engine oil and fuel filters, the change of engine oil with John Deere Plus 50 II and the lubrication of greasing points.

ILS ReLife package

Re-life packages for 8 Series tractors for increased performance and longevity of your ILS axle. Explore our various offers to update your tractor.

Track and midroller exchange

Get the ultimate traction upgrade with a wide variety of application-specific Camso tracks and midrollers. We'll exchange and align them, check idler, drive wheel and the midroller oil level.