One man's mission to turn East Anglia green in winter
22 March 2022 Product Updates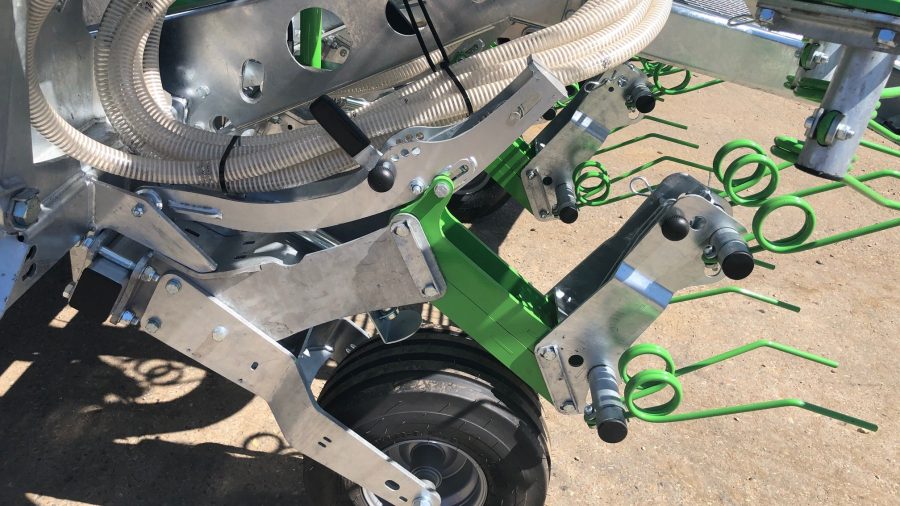 Jon Myhill is a man on a mission to help turn East Anglia "green" during the winter months of farming.
Rather than the usual brown vista, Jon believes the under sowing of maize, using different seed mixes such as grasses, clovers and mustard, can deliver a range of valuable benefits while also helping to change the look of the land in his area.
Jon, a Director at MB Farming Ltd, Suffolk and the agronomist for the Maize Growers Association, has been involved in maize under sowing trials on farms throughout Norfolk and the Waveney catchment thanks to the support of the Norfolk Rivers Trust and Essex and Suffolk Water.
The under sowing trails were undertaken to highlight the economic and environmental benefits of the system, including enhancing soil structure and organic matter, reducing soil erosion, retaining soil nutrients and providing winter/spring grazing opportunities.
Jon said: "With nothing growing it is a bleak environment in the Autumn and if a field is under sown it is green and lush and farmers need to be told that something growing is better for the environment than not.
"We have rules around sustainable farming, including soil erosion, protecting water courses and encouraging green cover over winter. Under sowing would tick the box for a green crop growing that is holding soil together and adding organic matter back into the topsoil and retaining carbon.
"I heard a comment from someone who walked fields that were under sown and he noticed how many worm casts there were. That is an indication of good soil. At harvest time we found that the fields travelled better and less mud was on the road which is another added benefit.
"The Norfolk Rivers Trust and Essex and Suffolk Water were keen to sponsor grass seed going out to farms in their catchment areas from a soil protection and water quality aspect. There has been a
good take-up and we drilled 250 hectares last year from nothing the previous year and for the coming year the projection is for more as interest grows and neighbours look over the hedge!
"There is probably a two week window where you should be under sowing before the maize plants become too tall. There has been a lot about water quality in the media and stopping pollution is a focus."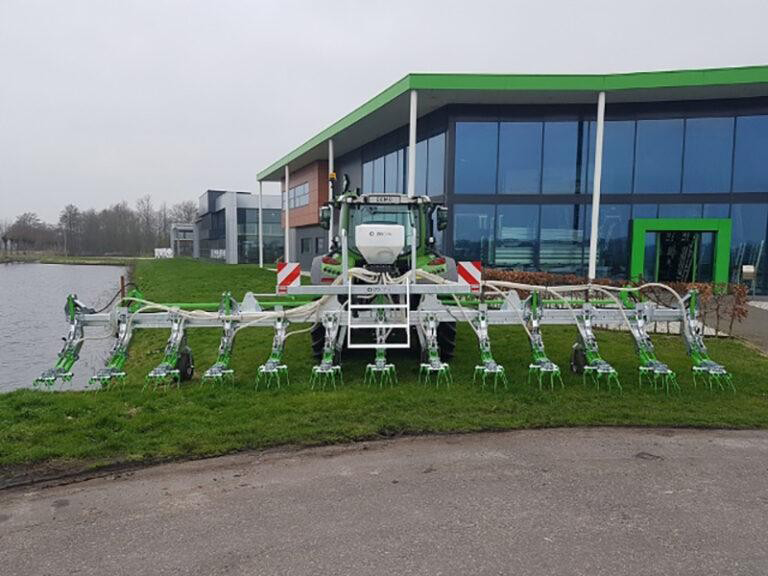 Jon invested in a Zocon Greenseeder to under sow the maize and believes with the Eastern side of England being drier, under sowing is a relatively new concept. "I don't know of many other seeders in the area at all:" explained Jon.
"The Greenseeder is a specialist bit of kit and we have a 12-row seeder which arrived in May last year. I got to know about the seeder after being aware of eight row seeders and we wanted a 12 row that could also drill on 10 or 8 rows to match what our customer's maize drills.
"It was the obvious choice and from a price point of view, the 12 row was comparable to an eight-row competitor. The optimum period for using the seeder is June and it is very simple to use and very solidly built. From a maintenance point of view, we haven't spent any money on it.
"We have had to experiment with different grass seeds and a Westerwold at 12 kilos a hectare is probably your standard treatment now. We have had some good results with clover which is more expensive and you have got to have a longer term plan because it won't give the next crop more nitrogen but it will give it to the following crop.
"Mustard is cheap and cheerful option, but a dull August had an impact on a lot of the under sowing and we didn't get the necessary light under the canopy."
Jon accepts there needs to be a mindset change amongst the farming community to fully appreciate the benefits of under sowing but is confident the success of the trials and the subsequent word of mouth will help to win over the doubters.
He said: "It is an extra cost to the farmer which is the mindset you have to change. There is no monetary benefit – a bit like when cover crops first got introduced – and people asked why they should pay extra to get any return.
"But you are improving soil health and reducing the risk of run off and erosion plus limiting water pollution. It is the right thing to be doing. It will cost farmers, say £40 a hectare and the benefit comes from grass capturing nitrogen and nutrients and organic matter going back into the soil.
"The biggest saving, I have seen is 30-40 kgs of nitrogen being captured per hectare and with nitrogen prices as they are, you are probably saving £25-£30 per hectare and that is pretty normal for a cover crop to capture that over a winter. Then you have got the payment from the sustainable farming incentive for having a green cover in the winter plus organic matter building – what sort of price can you put on that organic matter?
"We have some growers who have a longer-term plan that is to use the under sown grass as a feed for a flying flock of sheep on the farm. We are going to drill earlier for one farm to hopefully get more bulk for the Autumn to put sheep on in the winter."
For more information on Zocon machinery contact your local area sales manager.
Credit for this article goes to Kevin Irlam-Mowbray | thegreenseeder@btinternet.com | Facebook
Click the link below to see the article: