E G Harrison welcome their new Grimme Varitron home
16 December 2020 Ben Burgess News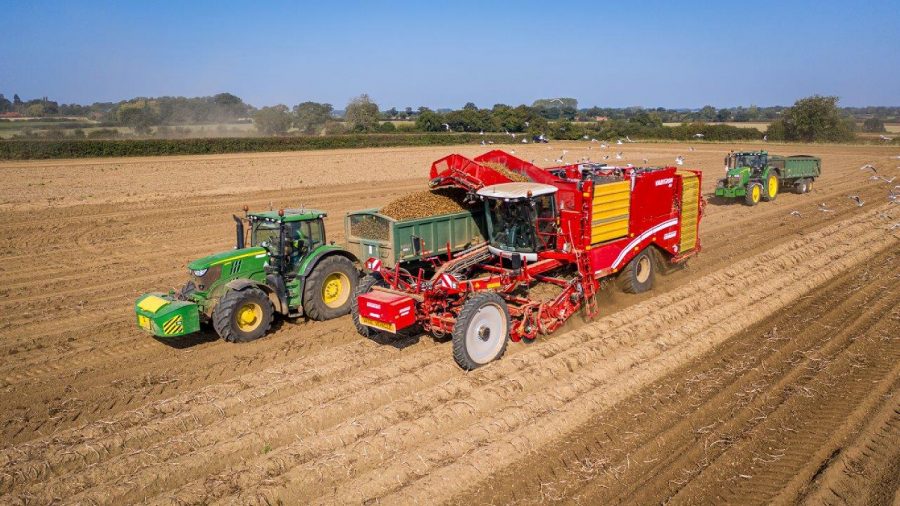 E G HARRISON WELCOME THEIR NEW GRIMME VARITRON HOME
North Norfolk farming and contracting business E G Harrison & Co welcomed their new Grimme Varitron 470 for the 2020 harvest season. Their farming operation is home to a fleet of John Deere and Grimme machinery, and this is the second Varitron 470 they have purchased since upgrading from a Varitron 220 in 2016. James Harrison explains the reason behind the change.
"For a long time, we could see the benefits of four row harvesting and the efficiencies that it would bring to our potato enterprise. When we tried the Varitron 470 in 2015, our mind was made up. We loved the almost full width front end and the smooth gentle flow all the way through the machine. Since then, we have added a Grimme BF 600 four body ridger and a Grimme GB 430 four row belt planter. This has adapted our production system to give complete compatibility to our harvester.
"This is the second Varitron 470 we have purchased and the concept of the machine and the ability to have flotation tyres rather than tracks really suits us, although, if someone tells me our recent weather pattern is going to become the norm, I will consider tracks in the future! Having previously run a double multisep on our two row machines, we chose to change to RS cleaning rollers and the change paid off; they are cheaper to run and can be adjusted to be more or less aggressive, depending on the soil type, which can help reduce bruising. The rollers are 90mm for seed crop and 80mm in ware crop, allowing a smaller gap to keep more of the smaller potatoes. To ensure enough cleaning in tricky conditions we specified a fine haulm elevator web. This was a big change for us originally as we were concerned about potential damage, but we have achieved very low bruising levels in some very challenging seasons. Another feature that's really beneficial is the OptiBag, it helps us leave as much soil in the field as possible."
With 360 hectares of potatoes and additional contracting to assist local farmers if required, the harvester works at full capacity throughout the season. James also brings in their Grimme GZ 1700 DLS trailed harvester to add capacity when needed and to help keep the grader full.
"Regular maintenance points are easier to get to compared to the Varitron 220 where you have the engine down the side of the machine. The ErgoDrive joystick is operator friendly but the biggest surprise has been the manoeuvrability of the four row harvesters, we have found them easier to move than the two row tracked machine which is better for our operator, especially on the narrower roads."
Having been valued customers of Ben Burgess for many years, James relies on our team's understanding that downtime is not an option.
"I can't fault the back up and service from the Aylsham branch, it's always exceptional. They understand the nature of our work and the urgency in getting crops harvested, and that we are always trying to achieve more with less. "Ben Burgess are also helping us embrace technology to add value to our production systems. For several years we have produced planting maps where we plot all our seed planted by producer number and tuber size. This really helps us if we have seed issues and we are starting to analyse the data more to see any influence, say, soil type or tuber size, can have on yield."
Ben Burgess provides the full range of potato and sugar beet equipment from Grimme and has an extensive range of demonstration machinery, as well as second hand items for sale at benburgess.co.uk. Please get in touch with your local representative and let us assist you with the right equipment for your business.