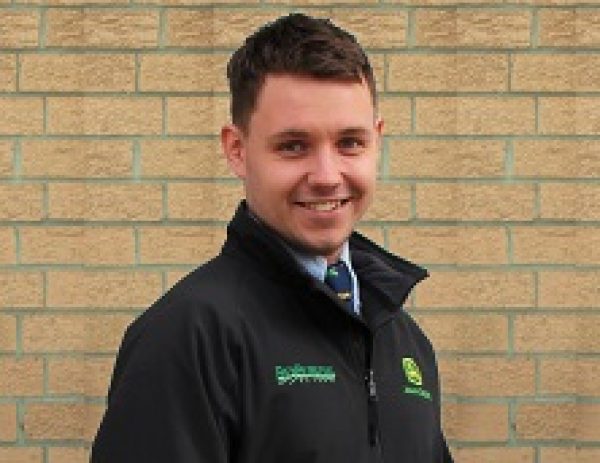 Charlie Oldfield – Used Equipment & Export Sales Manager
I grew up in a small north Norfolk village. I'm not from a farming background and therefore hadn't really considered a career in the agricultural industry throughout my school years.
I studied business and finance at Norwich City College and then decided to go travelling in Australia for a year. On my return, I needed to start thinking about the future and the direction I wanted to be heading in. There was a junior parts person role being advertised at Ben Burgess Aylsham. It was very local to me and I knew of the company, even if I didn't know much about farming. I was fully trained and gained knowledge in the parts department for a large range of different equipment, including John Deere tractors and lawn mowers, and Grimme potato equipment.
After almost a year, a trainee sales person/hire assistant position became available at Ben Burgess Norwich. I felt I was ready to progress and was successful in gaining the role. Working in the hire department has helped me massively and my machinery knowledge is getting better and better, not just with tractors but also diggers, telehandlers and combine harvesters. Although I was part of the hire team, I was working within the sales office and after a short time, got to go out in the field on demonstrations and with the area salesmen to meet customers. When I was in the sales office, I began making a few UK and export sales, just from picking up the calls coming in. This made me realise how much I enjoyed selling and being part of this industry and I therefore knew this was the direction I wanted to head in. After three years training and shadowing other salesmen, I now work alongside our Sales Director and have recently been promoted to Used Equipment & Export Sales Manager, taking care of second hand valuations and selling used machinery across the UK and worldwide.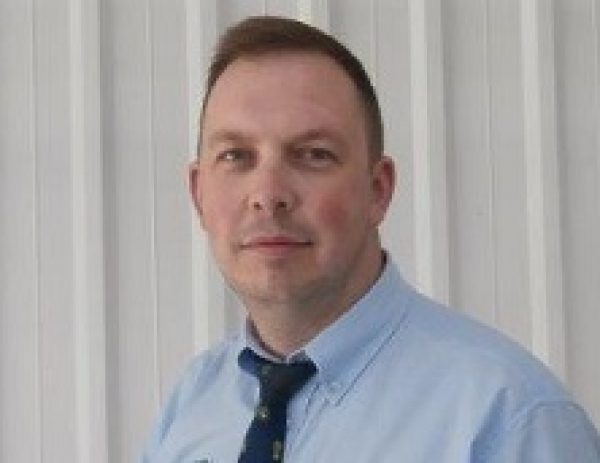 Justin Gooderson – Service Manager
I come from a farming background with the family farm, originally started by my late Grandad, run by my Uncles. Having grown up only a short distance from the farm, I was able to watch the activity of the tractors and machinery on a daily basis and grew an interest in agriculture from a very young age. This, together with a keen interest in engineering and 'how do things work?', I decided that a career in the agricultural machinery industry would be one that I would pursue.
In my final year of GCSEs, I wrote to all my local agricultural machinery dealers seeking an apprenticeship to begin when my exams were over. I received a letter back from my local John Deere dealer at the time, asking me to attend an interview and a few weeks later I accepted their offer of a 4 year apprenticeship scheme.
During my apprenticeship, I attended the Norfolk College of Arts and Technology in King's Lynn on a block release basis, whilst also learning the basic skills and gaining valuable experience by working with trained technicians carrying out repairs and servicing back at the depot. After successfully gaining the qualification of a modern apprenticeship, I was given my own service van and began travelling out on my own to farms carrying out repairs, whilst also furthering my training at John Deere in Nottingham.
When my dealership announced it was closing, I applied for an Agricultural Service Technician role at Ben Burgess Aylsham and successfully gained the job. I enjoyed working at the Aylsham depot for a total of 14 years. During that time, I worked my way up the ladder in the workshop before becoming second-in-command to the Service Manager, which brought the responsibility of running the workshop whilst he was away. I gained the qualifications of LTA 4 Master Technician and AMS Specialist, and also became a member of both the Engineering Council and the Institute of Agricultural Engineers, which allows me to add the letters 'Eng Tech MIAgrE' after my name.
When the opportunity arose within Ben Burgess, I decided to apply for my current position, Service Manager, at our Beeston depot. I currently manage the service department and acquired the qualification of LTA Department Professional with John Deere in 2016.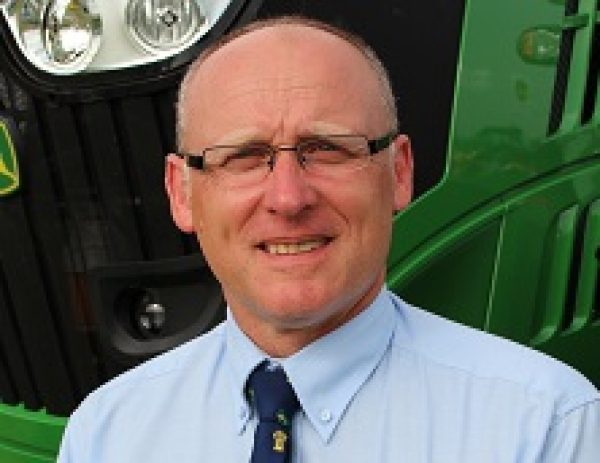 David English – Area Sales Representative
I was born in a small south Norfolk village on a tenanted farm. One of four brothers, we all helped out on the farm throughout our childhood, bedding down cows and the odd tractor driving when required. I had a natural tendency to help repair bits of farm machinery and was always pulling lawnmower engines apart.
On leaving school, I studied agricultural engineering at Kesteven Agricultural College in Lincolnshire for four years, gaining an HND. During the summer holidays, I worked on a local farm gaining experience of many farm operations as well as helping out with repairs on farm machinery.
After college, I went travelling; I visited many parts of Europe as well as Australia and the Far East. I worked with cattle, at car assembly plants and even tried my hand at property sales – all good life experience!
On my return to the UK, I decided to find a career in agricultural sales and I secured my first sales position with a small company near Swaffham. I sold and demonstrated a wide range of farm machinery and worked for this company for almost ten years.
In March 2002, I joined Ben Burgess Norwich as an area sales representative after seeing the position advertised. During my time here, I have been involved in all aspects of selling and demonstrating a wide range of farm machinery in the south Norfolk area. Over the last few years, I have specialised in combine sales and demonstrations, and recently passed accreditation as a John Deere combine specialist.
In my 25 year career in agricultural sales, the biggest change I've seen has been the introduction of automation; such as satellite steering, headland management control systems, data records and automatic spray shut off systems to name a few.
Over the years the basics of farming have changed very little, but the way we now perform and record these tasks has changed tremendously. Therefore the required knowledge, both of operators and retailers, is greater than ever and specialist roles in the future will bring excellent opportunities to those in the industry.
Looking to the future, farming efficiency needs to continue to increase in the way we grow crops and tend animals to be able to supply the world with enough food in a sustainable way. This will require ever more efficient machinery and systems to record inputs and help traceability. The next decade is sure to be as interesting and witness more change than the last two. One truth is that you never stop learning and this is the reason why I enjoy my role at Ben Burgess.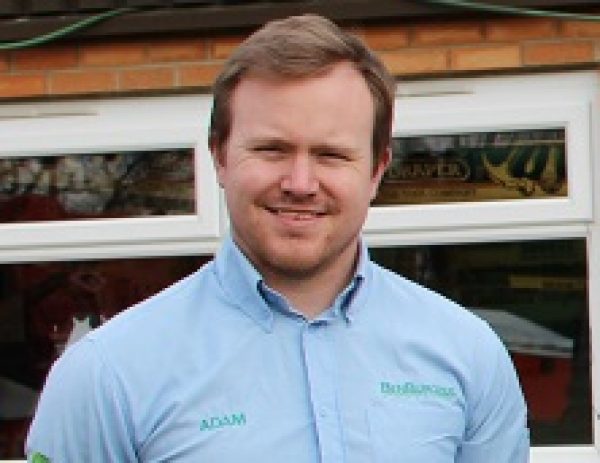 Adam Meek – Grounds Care Sales
I first became interested in grounds care equipment when I was asked as a teenager to help prepare my local cricket club's wicket and outfield. I jumped on the club's old John Deere 2653A and there was no looking back! As I couldn't make a living from preparing the cricket pitch, my Grandfather suggested I contact Ben Burgess to see if they would take me on as an apprentice; he knew the firm as a good employer from his many years working on the farm.
I joined the team at Ben Burgess Aylsham in 2006 having completed my GCSE's. I had just turned 16 and was sent to learn my new trade as an apprentice horticultural technician at Brooksby Melton College in Leicestershire. For the next 3 years, I attended Brooksby in 4 week blocks. I had the time of my life meeting new people from across the UK and learning about things I found interesting. I finished my time at college with a Level 3 City & Guilds qualification in Land-based Engineering.
Having spent 10 years at Aylsham developing the grounds care department by selling, servicing and repairing all types of equipment, I've recently made the move to Ben Burgess GroundsCare Equipment in Norwich. My role is depot-based sales and I look after walk-in customers and telephone enquiries. I work with a range of suppliers including John Deere, Hayter, Atco, Stihl and Tanaka and an important part of my role is to develop our showroom.
Looking to the future is exciting. John Deere and our other franchises are always introducing top of the range grounds care equipment so I am always learning.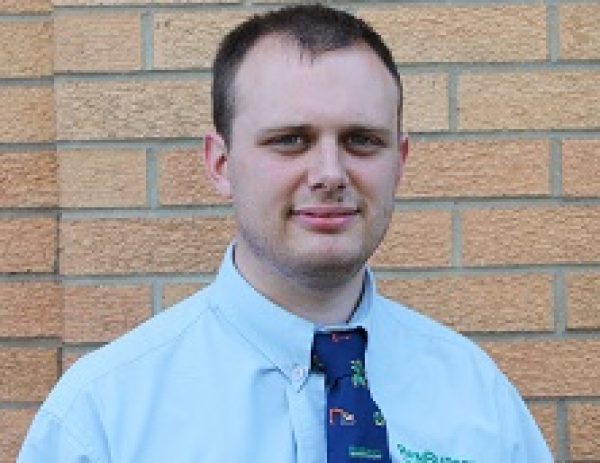 Jason Plummer – Grounds Care Hire Coordinator
I completed a week's work experience at Ben Burgess in the grounds care workshop. I really enjoyed my week working alongside the team of technicians and decided to apply for a Saturday job. I worked Saturdays until I finished school, then began a grounds care apprenticeship with John Deere, attending Brooksby College for 3 years studying for my NVQ Level 2 and 3 as a grounds care technician and welder.
After completing my apprenticeship and four years in the workshop, I joined the parts department as a sales person. I received parts from manufacturers, sent parcels out to customers, dealt with telephone enquiries and served customers on a daily basis in our showroom. My experience as a technician gave me a great advantage as I had good machinery knowledge and I was able to identify parts needed.
As the grounds care hire department grew, I began to assist them alongside my parts role. This increased my knowledge of a different variety of equipment and I used my customer service skills to look after hire enquiries.
After being in the grounds care parts department for almost seven years, the grounds care hire coordinator position become available and I was given the opportunity to take on that role. I look after equipment including hedge cutters, ride-on lawnmowers, chippers, compact tractors and specialist arborist equipment. My role involves making sure our hire fleet is maintained, working with our customers, organising deliveries and taking care of hire contracts with local councils, golf clubs, football clubs and many others. I work alongside our grounds care workshop manager and assist him and his team when needed.
My role is full of variety with the different equipment we offer and is fulfilling and interesting. I continue to learn and enjoy developing relationships with new and existing customers.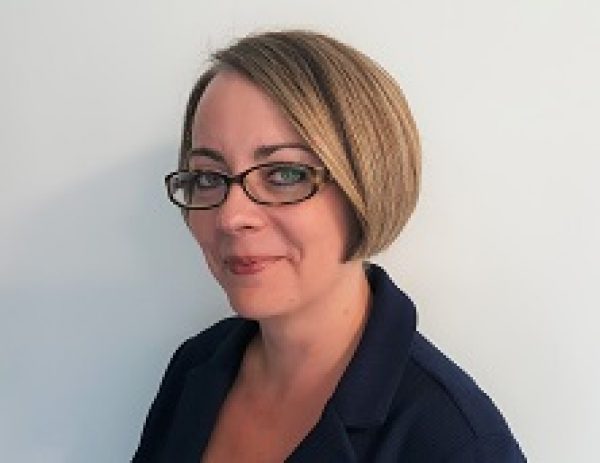 Kathryn Watts – Customer Relations
I was born in Essex and moved to Newmarket when I was two, so grew up locally.
I enjoyed working with children when I was growing up and therefore wanted to obtain a qualification to become a nanny. I studied at college where I gained a BTEC in childcare. My first role as a full-time nanny began shortly after and I did this for 10 years, working with various families.
I learnt my early lessons in customer service at a local nightclub, taking entry fees and checking customers' coats in every weekend. I then became a supervisor for a café owned by the same nightclub. This was long hours, some challenging, but it's here that I found my niche – working with people.
My next move saw the start of my career in customer service. I became a service advisor, working alongside the service manager, at a main car dealership. I was employed based on my customer service skills which I continued to develop at the dealership, learning from colleagues and customer experiences and I haven't looked back since.
After 12 years, I relocated and found a new challenge at an aggregates supplier locally, providing administration support in the workshop. I was here for five years and thoroughly enjoyed my time. I had to learn fast as working with lorries and plant was a little different to cars, however it was an excellent way to improve my knowledge and experience.
I joined Ben Burgess Newmarket in a customer relations role in June 2017 and I'm using this knowledge and experience to assist the departments across the depot in meeting our customers' expectations. I manage the depot's customer care process and assist our workshop, taking calls and welcoming customers upon arrival. I'm encountering several new challenges in my role which I'm enjoying and I look forward to a long future here.